General News – Monday, October 9th, 2017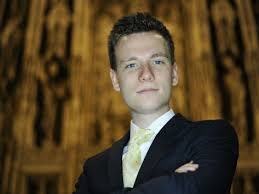 Benjamin Sheen is one of the UK's brightest young organists, having recently won the inaugural Longwood Gardens International Organ Competition. He has also recently been awarded Second Place and the Jon Laukvik Prize at the 2013 St. Alban's International Organ Competition in its 50th year. He currently resides in New York City, and combines a busy concert career with the position of Associate Organist at St. Thomas Church on Fifth Avenue.
Ben began his musical education as a chorister at St. Paul's Cathedral, where he took up the organ aged 10. In 2003, Ben became the youngest person ever to give a recital in the cathedral's Sunday evening series at the age of just 13. Ben was awarded a music scholarship to Eton College where he studied organ with Alastair Sampson and David Goode.
Ben is a Fellow of the Royal College of Organists, winning the Limpus, Durrant and Frederick Shinn prizes and has recently been awarded the Worshipful Company of Musicians Silver Medal for 2011.
Download the Swiss Church organ recital programme 2017/18 here